Sedation Dentistry
The team at Smiles in Currambine prioritises your safety and comfort during every procedure. We believe that you should be able to complete your dental care without worry. To ensure that you can do so, we are pleased to offer a range of sedation options.
We'll Put Your Mind at Rest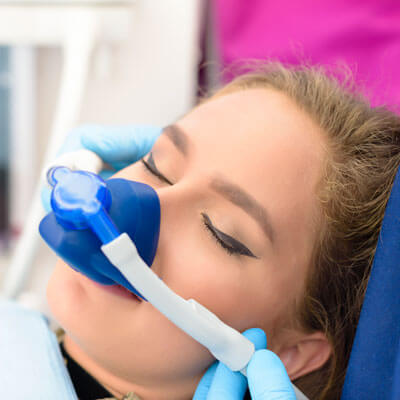 A visit to the dentist can be a daunting experience for many people. Smiles in Currambine provides sedation dentistry, which is perfect for clients who are feeling a bit apprehensive about a scheduled procedure.
Getting put to sleep at the dentist has continuously proven to be an effective way to help nervous patients feel at ease while receiving the dental care they need. We offer a range of sedation options to help make your visit to the dentist as pleasant as possible. Contact us today if you require the services of a professional sedation dentist.
Our Approach to Sedation Dentistry
Do you feel nervous or anxious about visiting the dentist? We work closely with you to explain each procedure so that you can feel confident about the care that we provide. For those patients requiring something more, we have sedation options to help. We'll discuss your fears with you, then make our recommendations as to which form of sedation is appropriate. We can give you nitrous oxide gas, a prescription sedative or general anaesthesia administered intravenously.
If you're looking for reliable and reputable dentists that will put you to sleep for a procedure, then our caring, friendly team can help. Our extensive experience and proven expertise make us the preferred choice.
Relaxing Through Your Dental Care
Sedation dentistry comes in a variety of options, ranging from mild nitrous oxide analgesia to prescription sedatives and IV administered medication. The level of your sedation will depend on factors such as:
Your medical and dental history
The extent of treatment that you need
Whether or not you want to "nap" through the entire visit
The length of the procedure
Tooth sensitivity
For instance, if you are having wisdom teeth extracted, we may recommend IV sedation with an anaesthetist.
Keeping You Comfortable
We want your time with us to be what changes the way you feel about going to the dentist. If you've put your dental needs off due to previous negative experiences, contact the team at Smiles in Currambine today. We'll help you get the quality care you deserve!
CONTACT US
---
Sedation Dentist Currambine, Kinross, Iluka, Burns Beach WA | (08) 9305 4888