SmileStyler® Teeth Aligners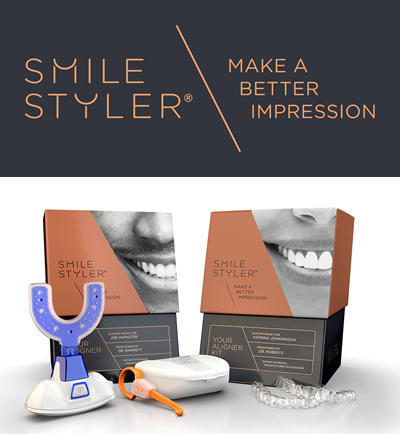 Straighter Smiles in as Few as Three Months
Having a beautiful smile is something we believe everyone deserves. You should be able to show off your pearly whites with pride, knowing that you're pleased with your appearance. If you have considered getting braces but dislike the idea of noticeable metal braces, we have the solution for you at Smiles in Currambine. Our range of treatment options for crooked teeth includes SmileStyler Teeth Aligners that are practically invisible.
SmileStyler is a sequential clear aligner system that is locally manufactured in Australia using superior quality materials and the latest dental technology. It provides effective results in realigning teeth.
An Invisalign Alternative
SmileStyler is an Australian company that offers a more customised treatment than Invisalign orthodontics. Instead of one scan of your smile and pre-printed alignment trays (like Invisalign systems), SmileStyler prints your aligners at specific phases of treatment. This approach provides ongoing accuracy to prevent complications or relapse. Whereas systems like Invisalign must be completely reprogrammed if a tooth isn't responding properly.
Plus, SmileStyler typically works quicker than traditional Invisalign teeth straightening. Everything is programmed and manufactured right here in Australia.
If you're searching for a proven Invisalign alternative, SmileStyler offers a proven, convenient system you can trust. And just like Invisalign, they're discreetly fitted to your unique smile.
Who SmileStyler is Right For
Teeth aligners are designed for more than just correcting crooked teeth and closing gaps. They also correct a number of different aesthetic and functional issues. These include underbite, open bite, crossbite, rotations, spacing issues, dental midlines, overbite, crowding, a gummy smile, overjet and buccal corridors.
We'll be pleased to evaluate your oral health and determine if SmileStyler is right for you. SmileStyler is even for those who have had orthodontics before but have relapsed in the time since the initial treatment was completed. You can achieve your perfect smile with this simple, highly effective solution.
Straighten Your Teeth Affordably
Often, people are concerned that they can't afford orthodontic treatment. Thanks to SmileStyler's shorter treatment times, you won't have to worry about steep costs. Most of the patients at our clinic complete their treatment in just 3 -9 months. They are more affordable than the price of traditional braces, and you won't have to wear them for nearly as long.
The Many Benefits of SmileStyler Teeth Aligners
There is an array of reasons that our patients love choosing the SmileStyler system:
A more affordable treatment alternative
Straighter teeth in less time
Brushing and flossing with ease
No uncomfortable brackets and wires
Freedom from fixed orthodontics
No dietary restrictions
A removable appliance that is easy to care for
Virtually invisible
Since your aligners are removable, they don't compromise the health of your teeth. You can take them out when you eat, brush your teeth or floss. You won't have to give up your favourite foods or find it difficult to clean around your orthodontics as is the case with traditional braces.
Are You a Candidate for SmileStyler?
Would you like to learn whether this solution is right for you? For more information on getting your teeth straightened with SmileStyler Currambine or to book your consultation, contact our friendly team today! You won't have to worry about payment options. We can provide you with an affordable plan that fits your budget.
CONTACT US
---
SmileStyler Aligners Currambine, Kinross, Iluka Burns Beach WA | (08) 9305 4888